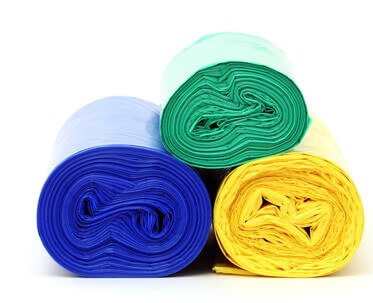 Colour coded bags help to separate waste more effectively and optimise the recycling process. Collectors can see exactly what's in the bag and it is easier for both them and the recycling complex to identify waste and capture as many recyclable items as possible. Recycling waste saves your business money because it is more cost-effective to send disposed items for recycling than it is to send them for incineration. If you are committed to being a Eco-conscious organisation, it will inspire your employees to know that every ton of paper that is recycled saves thousands of gallons of water, 17 trees, and more than 350 gallons of oil.
Colour coded bags make it simpler to analyse your waste streams and to design a collection timetable to suit the requirements of the different types of waste your business produces. According to UK waste management legislation, your council is likely to require an annual waste report or Waste Transfer Note that describes your waste in writing and needs to kept for two years.  Bags that easily distinguish what is inside them help with the auditing of your different waste streams and confirm your compliance with regulations that require you to separate hazardous and non-hazardous waste, and further separate different items in both categories.
Your waste collection service should be able to provide clear instructions for your staff on how to use these special refuse bags. Standard guidance says that you should separate glass items from the rest of the recyclable waste and flatten cardboard boxes to make them easier to transport. Have your provider clear up the confusion around which plastics and types of wrapping, can in fact be recycled.
Why you should ensure your waste collector is authorised
According to laws governing waste collection, it is your business' responsibility to ensure that your waste collector is authorised and therefore legally disposes of your waste. Technically, the burden of care extends past the point of collection because if an unauthorised service fly-tips your waste and you cannot provide evidence to the police or local authority about who you gave it to, you could face both an unlimited fine and a criminal record. Fly-tipping isn't the only consideration when it comes to contracting a waste collection service, you also need to make sure that waste generated by your business does not get mixed with general household waste.
Using a company that prints it or your name on the bags provided for waste disposal, almost guarantees that you are dealing with an authorised company and ensures that the company is immediately identifiable should your waste end up in the wrong place.
For further insurance, you should check whether the waste collection service you hire is registered on the Environment Agency's public register and ask to see their certificates.  Any honest and reliable agency will be more than happy to provide you with any certificates you require and will be upfront with these.
If in doubt then chances are the company is not a reputable and honest company so shop elsewhere.