Abbey Polythene can supply a great choice of coloured polythene bags in a great range of sizes, colours and thicknesses.
Utilising different coloured bags for different items can be a very effective and simple method of separating things. Whether you use the coloured bags as a means of segregating your waste for different onward processes or whether you simply choose the brightest coloured bag to really make your business stand out from the crowd it's entirely up to you.
All coloured polythene bags can be printed using a random or a fixed repeat design with one, two and three colour printing available. We can use your original logo artwork or help you to determine the best printing design and message to really get the most out of your coloured bags. We are always ready to give as much advice as needed to make sure that you get the most out of our products and will happily provide pre-production samples to ensure that our clients are 100% happy before we start production of their bespoke coloured bag requirements.
Ordering and delivery of our Coloured Polythene Bags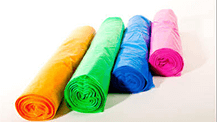 Minimum order numbers are in place for custom printed coloured polythene bags – call us for more details.
All of our products are manufactured in the most environmentally friendly way possible. The small amount of waste produced is used to make polythene granules so that they can be reused in new usable film.
A great number of different colours are available, varying in size and thickness. All of the polythene we use is of the highest quality and sourced in the UK to ensure maximum durability and strength. Our client base is rapidly increasing thanks to our quality products, affordable prices, terrific customer service and attention to detail.
Bespoke coloured bags are usually ready for dispatch within around 10 – 14 working days from receipt of the order – after the samples have been approved of course.
We use a professional pallet delivery service – standard delivery times are 2 – 3 days with next day and Saturday morning delivery services also available if required.
All products can be tracked throughout the delivery process to ensure that they arrive on time with our valued customers.
Contact us for more details about the colours, sizes and thicknesses of waste bags available. Coloured bags are available in a choice of opaque or tint to suit the preferences and needs of our customers.
If you want to learn more about the fabulous selection of coloured polythene bags we have available please don't hesitate to get in touch. With such a variety of colours, sizes, thickness and styles of polythene bags available there's sure to be something available which suits your needs perfectly. We will even send out some samples so that you can see for yourself.