Whatever type of bespoke polythene bags you need – here at Abbey Polythene we have the right product for you.
We can manufacture all types of polythene bags in a wide range of sizes to suit your individual requirements.
The thickness of the polythene is what gives it strength and durability. We use only top quality, UK sourced polythene in the manufacture of our products in a variety of thicknesses to ensure that our products are strong enough to handle the job they were designed for.
We have a great selection of colours available. Colour coding can be a terrific and easy method of segregating different types of waste product as well as complimenting the colour scheme of your business brand and really helping your business to stand out. Clear bespoke polythene bags are available as well as black bags, with coloured options available in both tint and opaque.
We have a large selection of applications and additives which we can utilize to make custom made polythene waste disposal sacks for a wide variety of uses.
Freezer bags which are 100% safe for food and freezer use
Anti static polythene bags
UV stabilised polythene bags
Fire retardant polythene bags
Low melt polythene bags
High slip and low slip polythene bags
Scented polythene bags
Compostable polythene bags – perfect for food and green waste in both commercial and domestic situations
Anti rust polythene bags
BRC approved polythene bags for food use
Lipped bags can be supplied with / without a permanent seal strip
Why Choose Abbey for your Bespoke Polythene Bags?
Many of our bags can be provided loose in boxes or in rolls with perforations for ease of use. They can be punched with holes if needed or with micro-perforations – whatever type of bespoke polythene bag you need for your business we can provide the perfect solution.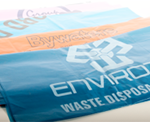 Polythene bags can be printed with your brand, logo or message with up to 3 colour designs available. You can use existing artwork or we can help you to create something which is just right. We can print on one side of the bags or both sides with random and fixed patterns also available if needed.
Our team of professional, friendly customer service assistants are always ready and waiting to discuss your requirements with you and give advice about the best products we have for your needs. We've got more than 20 years experience in the polythene bag industry so we certainly know what we're talking about.
Many of our bespoke polythene products can be ready within 10 – 14 working days with a 2 – 3 day standard delivery service. Saturday deliveries and next day deliveries are also available on request.