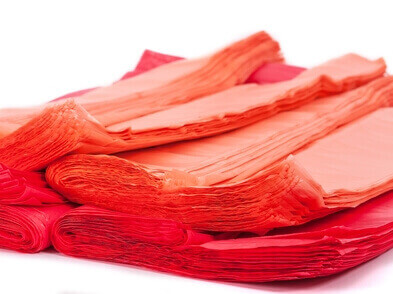 Polythene bags come in a variety of standard shapes and sizes, meaning that there's an almost perfect fit for almost any packaging—and therein lies the problem: almost. Don't you think that your business and its customers and clients deserve better than almost perfect?
Of course they do!
That's why Abbey Polythene specialise in polythene bags, we stock a huge range and can make bespoke bags to your specifications. Our bespoke products take the "almost" out of the equation. Using the latest design and manufacturing techniques, we give you and your customers the perfect-fit that is required in the modern world.
Considerations: Why opt for Bespoke Polythene Bags
In today's society, image is everything.
What that means is that every controllable detail of your business should be of the highest standard. Excellent branding ensures market reach, a quality product increases sales, and streamlined processes improve the overall profitability and success of your company.
If you get all of these things right, then you should avoid allowing small details like poor packaging from ruining the potential of your company. As such, there are a few things that are needed to make your packaging give off the right impression—and your polythene bags are no exception!
Sizing
By tailoring the dimensions of your polythene bags to your exact needs, we ensure that you minimise wastage caused by excess packaging. Reducing the amount of waste packaging can severely increase the productivity and cash flow of your business and it helps the environment!
Thickness
Different items require different thicknesses of polythene. As obvious as that may seem, you'd be surprised at how many companies are using the wrong bags, increasing the likelihood of bags being damaged during packaging or transit. At Abbey Polythene, we take your needs into account, ensuring that our bespoke polythene bags are up to the task of safely containing your products.
Colour
Some industries require a certain colour, and if your business falls under one of these categories, we can help! Even if your company isn't required to use a certain colour via regulations and industry standards, colouration can help in different ways: your logistical processes, marketing, and even brand image can benefit through smart use of coloured polythene.
Branding
When you're trying to grow your brand, image can be absolutely everything. Take a look at some of the masters of marketing.  Apple are an excellent example who have ensured that everything is styled in a way which makes the brand itself have as much appeal as the products they sell. By branding your packaging well, including bespoke polythene bags, you can set your company apart from your competitors.
Struggling to find an Exact Match?
A lot of our customers have had issues sourcing polythene bags and equipment which does exactly what they want it to do. There are a lot of things to take into consideration when choosing the right polythene for your business needs—including size, strength, and colour—and so we have worked hard over the years to provide a solution.
By working closely with our clientele, our custom made polythene products are tailor-made on an individual basis. Regardless of your specific needs, we're positive that we can match and in most cases, exceed your expectations!