Here at Abbey Polythene we have a great selection of trade waste sacks and can accommodate branding as required.
They are available in a variety of different sizes and thicknesses. We understand that requirements depend on the type and quantity of waste you are likely to be disposing of. If you are unsure as to the best solution for you then please do call us on 01489 790666 and we will be happy to offer free, no obligation advice.
Using coloured trade waste sacks to manage your waste effectively
The majority of trade waste these days needs to be segregated with as much as possible being sent for recycling. That's why many of our customers choose a variety of colours to match the type of rubbish that each one will hold. We offer fully compostable options where required.  Some of our trade waste sacks are fully recyclable and others are perfect for general waste purposes.
If you do not have large quantities of rubbish to manage then you might want to think about using clear poly versions instead which makes it easy to see the contents inside. Opaque trade waste sacks provide the perfect solution for documents awaiting shredding or anything of a more confidential nature.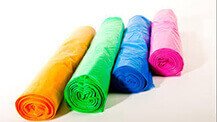 Our usual method of manufacture and supply is on a perforated roll – many of our most popular products have a single colour print to ensure that the nature of the contents can be quickly and easily identified.
Alternatively they may be supplied loose with a one colour or a two colour print in a fixed or random pattern – the choice is all yours.
Types of Stock Waste Sacks
Why not get in touch and ask about our comprehensive range of stock trade waste sacks? We have a selection of options available:
Clear refuse, medium duty
Black refuse, medium duty
Black refuse, heavy duty
Clear compactor
Black compactor
Black rubble
We can also make bespoke orders to suit the individual requirements of your company. You can choose from a great variety of colours and our professional service team can provide assistance with your printing and artwork requirements if needed.
Despatch of our trade waste sacks and delivery information
We strive to despatch custom orders within 10 – 14 days of receipt of order using a nationwide pallet delivery service. All deliveries can be tracked to ensure that orders are delivered on time. The standard delivery service is 2 – 3 days although next day deliveries and Saturday morning deliveries can be arranged if necessary.
To find out more details of our stock trade waste sacks or enquire about our comprehensive range of bespoke options which we can make to suit your exact requirements – contact our professional, friendly customer service team on 01489 790666 or fill out our contact form and one of our experts will be in touch shortly.
We are happy to provide samples of any of our trade waste sacks to make sure that you purchase the right product for your needs. Simply ask!