Our confidential waste bags are perfect if your company has waste products which are of a particularly sensitive or confidential nature. We have a fabulous range of polythene bags available for the disposal of shredded waste and the disposal of sensitive materials.
Our confidential waste sacks are clearly labelled and marked for ease of identification making the identification and segregation of confidential waste products a simple and effective process within your company.
All of our products are available from stock with a fast and reliable delivery service for your ultimate convenience.
We supply our stock confidential waste bags in multiples of 100 with the following pricing structure:
| | |
| --- | --- |
| Number of confidential waste bags | Price |
| 100 – 1000 | £49 per 100 |
| 1100 – 5000 | £40 per 100 + *Delivery |
| 5100 and more | Contact Us |
* All of the above prices are plus VAT but are inclusive of delivery charges (subject to location). Except where stated otherwise.
We utilise the services of a professional UK pallet delivery company with a standard 2 – 3 delivery. Next day delivery services are available if required, we can also arrange Saturday morning deliveries if necessary.
We are happy to discuss all of your confidential waste bag and other polythene bag requirements and are confident that, whatever your polythene bag needs we can fulfil them in an efficient and affordable way.
Samples of our stock confidential waste sacks are available if needed. We also have a wide range of other stock waste bags in a variety of colours, sizes and thicknesses.
Why Choose Abbey Polythene for confidential waste bags?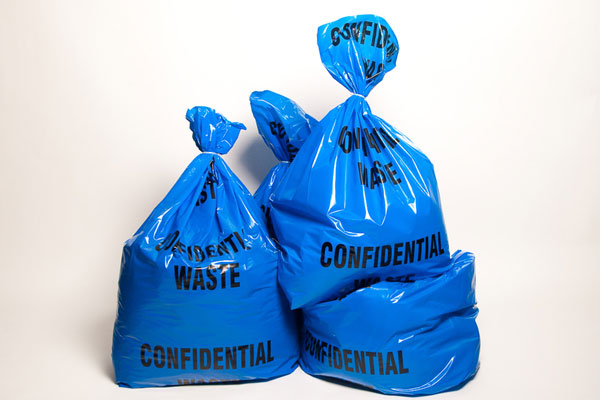 All of our polythene products are manufactured using top quality UK sourced polythene so that you can be sure of strong, durable and quality products which really fulfil your waste disposal needs – whatever your waste disposal needs happen to be.
We strive to make our products and services as friendly to the environment as possible creating the minimum of waste during our manufacturing process and all waste polythene is used for polythene granules which can be recycled and reused into new batches of film.
Contact our friendly, professional customer services team for any help and advice about your confidential waste disposal needs and they'll be able to determine whether these stock waste sacks are right for you or whether you would be better suited to one of our custom made polythene sack options.
We can product polythene waste sacks and bags in a wide variety of colours and sizes with up to three colour printing of your choice in a random or fixed repeating pattern if necessary.
When it comes to confidential waste and other waste removal questions – we've got all the answers.
If you want to find out more about recycling then click here to see the government guidelines.