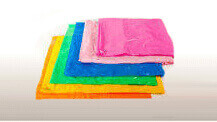 From confidential waste bags to clinical waste bags here at Abbey Polythene we pride ourselves on manufacturing a wide range of high quality polythene packaging products.  Our range of stock bags can be made in a variety of widths, lengths, thicknesses, colours and films to suit all and every need.  All our products are manufactured in-house so we are able to set a high standard for sheer quality, superb strength and durability.
Abbey Polythene only use UK sourced polythene which guarantees the finest quality.  We care for the environment, where possible we make fully recyclable bags or manufacture using biodegradable products with the minimal amount of waste during the production process.  All scrap materials are recycled into polythene granules and reused into fresh film.
Unsure on Waste Legislations?  Our dedicated and experienced team will help you determine what you need, we have an extensive knowledge on both European Legislations and that of England and Wales. If you are unsure on the size bag required why not ring our sales team on 01489 790666 to see if any of our stock range would meet your requirements. If you provide us with the dimensions of the bin/box you are looking to use, we can do the rest.
Our extensive range of stock bags meet the packaging requirements for a wide variety of market sectors, including:
•    Local government
•    Veterinary practices
•    Health Care providers
•    Food and drink
•    Horticultural and Agricultural
•    Building and Construction
•    Pharmaceutical
We are only too happy to hear about the specific needs and requirements of your company, our experienced sales team may even suggest bags that will better suit your needs; suggest a similar priced product or even advise on a less costly solution.
We love our polythene products and hope that you will too, our rapidly expanding customer base crosses from the United Kingdom to Europe.
We offer fast despatch on our entire range of stock bags.