Abbey Polythene are leading polythene suppliers across the UK and beyond. Known for our independent advice and experience in the polythene manufacturing industry.
We have a UK wide customer base as well as several EU based companies, some of which have been regular customers for over 10 years, they range from sole-traders to multi-national companies. Take a look at our testimonials page.
A bespoke service is offered across the range of polythene supplies, including a print design service on polythene bags, polythene sheeting or tubing. We can produce a wide range of colours, opaque or tint. Bags, sheets or pallet covers can be produced on a roll, on a core or loose in a box depending on your or your customer's needs.
Specialising in small to medium run quantities we work closely with our customers to ensure every product is tailor made to individual needs. Polythene bags and sheeting offer so many advantages for so many different kinds of wrapping, packaging and waste handling requirements.
Specialist Polythene Product Suppliers
Specialist polythene products can be produced by the addition of additives, examples being anti-static bags and sheeting suitable for use with printed circuit boards, scented bags, tubing and sheeting in various fragrances, the most common being lemon and vanilla, ideal to mask unwanted smells and odours and fire retardant bags and covers for additional safety. We can add punched holes or micro-perforations if required.
We use low density (LDPE) or mid density (MDPE) polythene in virgin food grade or recycled material (regran), which is easily recyclable. Also available is BRC approved food grade polythene and degradable polythene. Plus some products are now available in a blended film that is thinner and stronger than LDPE.
All of our products are either fully recyclable or biodegradable producing minimal waste, and all scrap is recycled into polythene granules and blown into usable film again.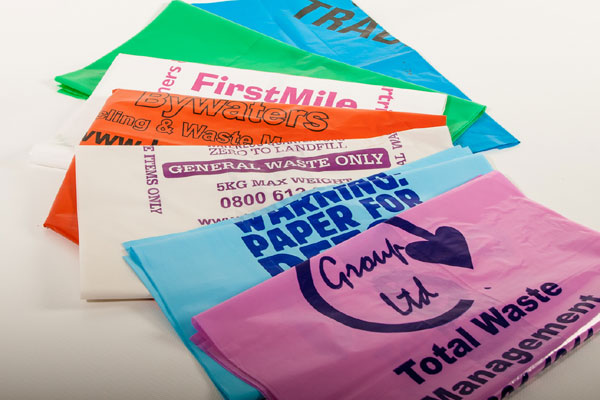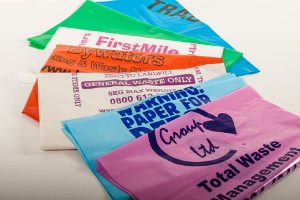 A comprehensive product range can be viewed on our product page, but if you do not see the specific product you are looking for please contact us. 
Some of our most popular specialist products include clinical waste tiger stripe bags, low melt EVA bags and trade waste polythene bags. Orders can usually be processed through the system within 10-14 working days, ready for shipment to you or your customer.
We use delivery companies who offer UK wide coverage. The goods can be tracked through the system ensuring they reach the customer as and when promised. Standard 2/3 day pallet deliveries are handled by a UK wide pallet distribution network using 7 ½ tonne curtain sided lorries with tail lifts. A timed, next day or Saturday morning delivery can be requested.
Above all service, quality and prompt on time delivery is paramount, and we are happy to provide quotations, samples and advice where and when needed.