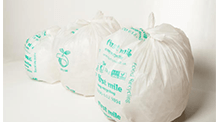 Custom poly bags are a great way of marketing your business. We can customise poly bags to your exact requirements, whether you want to add your logo, marketing messages, product instructions, bar-code or a combination of all of them then we can help.
We offer a range of colours and bag sizes and can deliver in a range of quantities to suit. Simply provide us with the artwork, or if you aren't sure how to get started then we can help with that too! So whether you want clear poly bags, coloured bags, food grade, clinical or waste segregation sacks, we have exactly what you need.
One of the benefits of providing printed poly bags is that your customers are much more likely to re-use them and this not only reminds them of your business, but also advertises to anyone else who might see it.
They are also incredibly useful for waste management companies where waste is left kerb-side and bagged in appropriate sacks it is easy to identify which rubbish is to be collected because you can identify your own company logo easily. Going further than that, if you also provide your customers with differing colours, they can segregate the waste at source which makes it much easier and cost effective to dispose of or send to be recycled.
Why Choose Us?
Abbey Polythene are not only experienced in the printing and manufacture of printed poly bags, we have hundreds of happy customers that come back to us time and time again. This is because we always aim to provide a professional, but friendly and helpful service that includes offering advice about the type, size and colours that will best work for you so that your custom poly bags are exactly what you want!
We work very hard to ensure that our poly bags are of the highest quality and you can rest assured that we will always offer competitive pricing so that you receive the very best value for money.
So if you think that having bespoke poly bags or sacks will benefit your business, then please do contact us today for more information!