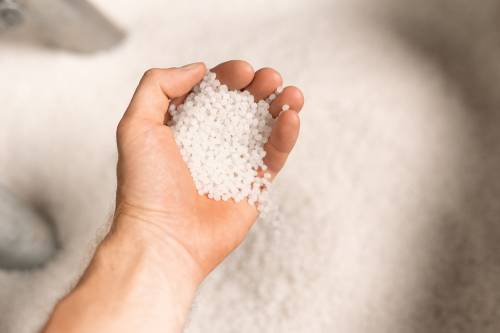 Whilst you may not remember a time when polythene didn't exist, polythene is actually fairly new to our everyday lives. The vast majority of people will have used it at some point. It is used in a whole host of different ways, from creating carrier bags for supermarket shopping, to preserving the food we eat, providing safe and secure ways to dispose of waste or for the medical industry.
Part of the reason it has so many uses is because it is so versatile. Here are just some of the characteristics that make it such a unique and useful material:
Waterproof
Airtight
Coloured, printed, patterned
Differing shapes, sizes and thicknesses
Strong
Perforated
Easy to store and transport
Light
Can be degradable or biodegradable
Easy to recycle
More about Polythene
Polythene was actually discovered by accident in a chemical plant in the UK. A group of chemists were working on an experiment that went wrong creating a residue that turned out to by polyethylene, the discovery of which has been attributed to Eric Fawcett and Reginald Gibson.
Whilst the basis of polythene is the same today, there have been a whole plethora of variations. Unfortunately, because it takes such a long time to degrade it's been given a bad name. But it is the disposal of polythene that is really the issue as it is easily recycled. The benefits on the environment are often overlooked. For example, the reduction in carbon footprint in transporting goods packaged using polythene, increasing the life of foods and its use in the medical industry are all massive positive contributions that polythene makes to our lives today.
A number of new degradable polythenes have been created more recently. These break down more quickly. At Abbey Polythene we feel very passionately towards the need for recycling and many polythene products can be broken down and reused again and again. So, if you take nothing else away from reading this blog. Please make sure that any polythene you use is recycled and doesn't go into your general waste bin. It takes just a few seconds and can make a massive impact.
Why Buy From Abbey Polythene?
We supply a massive range of polythene products, including sheeting and bags. We are able to offer many different types, everything from waste bags, specialist bags for things like clinical waste, transparent bags to protect from things like dirt and moisture, amphibian fencing, bags with handles, sheeting to cover and protect all kinds of things and many many more.
Not only do we supply the UK's businesses with a high-quality product at a competitive price, but we are also known for offering advice to businesses. Giving advice based on what is best for our customers and not what is best for our own bank balance. We take time to understand your requirements and advise the products that are best for you. This is just one of the reasons our customers come back to us time and time again. So, if you want to find out more then please get in touch today.