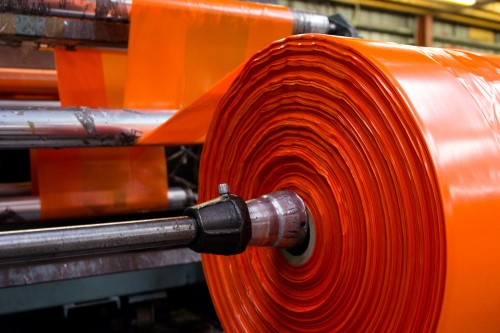 Polythene sheeting is not the most exciting sounding product, after all, it's just a sheet right! But sometimes the most un-exciting things can be the most popular. Purely because it can be used for so many different things across a business setting.
Sometimes referred to as plastic sheeting, it's basically a film made out of petroleum.
It is almost completely waterproof, can be clear, translucent or completely opaque. It is these characteristics that make it so popular. Usually sold in rolls a variety of different additives can be used to change its functionality. As an example, UV inhibiting, anti-static, fire retarded and food grade to name just a few.
What is Polythene Sheeting Used For?
Available in differing thicknesses that are measured in gauge or microns (the lower the grade, the thinner the polythene sheeting to enable it to be used in a variety of situations.
Light duty sheets are very thin are used for things like dust covers, protecting products in a warehouse, food grade polythene for food wrapping, packaging and preserving, or to protect surfaces for example when painting or spraying vehicles.
A slightly thicker, medium duty polythene sheeting product is useful for covering furniture, wrapping pretty much anything for moving or storing and can also be seen outside, used in gardens and agriculture.
Much thicker varieties are often used in more industrial environments or in construction, it can also be used as a damp proof membrane, temporary roof coverings or sealing off rooms.
Colours and Supply
All types, whether clear, translucent or opaque are available in a variety of colours. This can be very useful for colour coding in any work environment or can also be used to promote a company's brand colours, especially when a logo or wording is added.
Black sheeting is used more frequently in situations where protection from sunlight is required, it also deteriorates much slower in sunnier situations than other colours.
Abbey Polythene is able to provide pretty much any colour, thickness or specialist type of sheeting you require. Rolls also come in different sizes up to 4 metres wide. They can be centre folded or centre folded if required depending on use this may be more convenient. You can also request pre punched holes or perforations like you see when buying domestic waste bags in the supermarket. This makes tearing the film much easier, as well as helping it to remain breathable which prevent misting.
The rolls of sheeting also come in a range of sizes (Abbey Polythene supplies rolls up to 4 metres wide). It can be centre folded or multi-folded for ease of use and storage and is sometimes supplied with perforations to make it easier to tear lengths of sheet from the roll. Punched holes can be added too, as well as micro perforations which will make the film breathable and prevent it from misting or fogging up.
The usefulness and versatility of polythene sheeting is never ending!