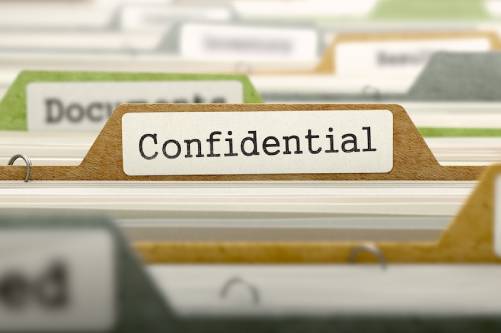 Whilst looking after confidential waste has always been important, since GDPR legislation came into force it's become critical for businesses to protect customer information.

There are different types of confidential waste, from customer information (as mentioned above) detailing addresses, DOB, credit card information through to company legal documentation, NDA's and of course the private details of staff.
It is the responsibility of a company to do everything they can to ensure that this data does not get into the wrong hands.
When disposing of such waste it is important to shred any paper and place it inside bags specifically designed for the disposal of confidential information.
Confidential Waste Bags and Disposal
Many businesses will work with a disposal company for all kinds of waste, these businesses are able to supply appropriate confidential waste sacks that allow the data to be kept in a single safe location until it's collected, ready to be destroyed. They are often also able to supply lockable structures if required for companies that have incredibly confidential information such as councils and government departments. This allows them to preserve old data in a secure way until it is disposed of.
Any reputable company will supply a paperwork trail to prove that confidential data has been dealt with in the appropriate way, adhering to all current legislation.
Confidential Waste sacks are opaque and often coloured, enabling them to be easily identified. They are often thick polythene that enables them to be reused if required. Although with some kinds of data where it is preferred that the bag is never opened again, the bag can be disposed along with it's contents.
It's important not to excessively filled, usually to three quarters of it's capacity to take away any risk of splitting due to overloading. It's also important to make sure they are good quality polythene sacks. Trying to save money by purchasing inadequate bags could end up costing dearly if they don't do the job they are intended for an keep data safe and secure.
At Abbey Polythene we can supply a range of confidential waste sacks to disposal companies, buying in bulk can help reduce the overall costs of these bags. We can also advise on the best product to buy depending on the job in hand. We only advise based on your requirements and will never try and up-sell bags that you really don't need.
Our experience and expertise in supplying opaque, good quality confidential waste sacks means that our customers come back to us time and time again, we are the company to trust for all things polythene!