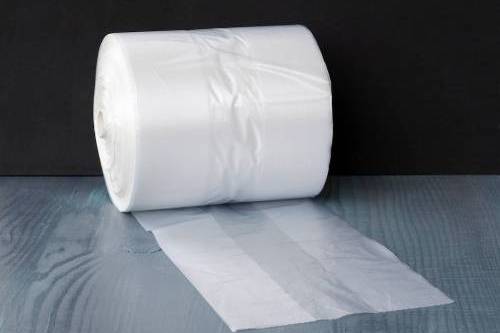 Most poly bags are made using a material called polyethylene which unsurprisingly is where the name polythene comes from. This material is made up of lengthy chains of ethylene monomers. These monomers are derived from petroleum and natural gas. The distinct type that is used in the manufacture of poly bags can be differing types of density depending on the final product, they often have other chemicals added such as colour, tints etc.
The Process of Manufacturing Poly Bags
1. Pellets of Resin are Blended
The first step is to blend plastic resin with the additives necessary to transform its qualities into those required for the final product. This can impact things such as its colour, strength, resistance to tearing, UV protection, the feel of the material, whether it is clear or opaque and much more. Depending on how the poly bags are destined to be used will determine these aspects in the manufacturing process.
2. Creation of Film
Nest the pellets are melted down so that they are able to be forced through a circular gap to form a tube of plastic. Air is introduced into the type forming a bubble. This bubble causes the polythene to stretch and inflate, the extent of which will determine its thickness and size.
The product is then cooled and pressed so that it can be wound onto a roll ready for the next stage.
3. Design and Print Stage
Once the rolls of film have been created, printing can take place if required to add company logo's, products descriptions, or any messaging the customer desires. Any number of colours can be added from very simple one- or two-colour printing through to more complex additions of different colours and finishes.
4. Making the Poly Bags
The next and final step is to turn this sheeting into bags. The film is fed through a machine that can turn them into bags, whether that's individual bags or rolls of bags pre-perforated. The machine cuts to the correct length and then seals as required to make the film into bags.
A variety of different additions can be made here, from adding handles, zip locking, making flaps for sandwich style bags, wicketting, pretty much anything you can think of.
Abbey Polythene Poly Bags
We tend to use low or mid density polythene for our poly bags, we can also manufacture with virgin food grade and can also produce degradable and biodegradable bags. All of our poly bags are easy to recycle and we always encourage recycling to reduce waste.
We can manufacture a range of specialist poly bags and products using a variety of additives to create anti-static bags and sheeting, scented bags, tubing and sheeting and fire-retardant bags and covers for extra safety, to name but a few. We can also add punched holes or micro-perforations if necessary.
With years of experience in the field of poly bag manufacturing, you not only get the most knowledgeable team and very best advice. You get a high-quality product at a good price too.