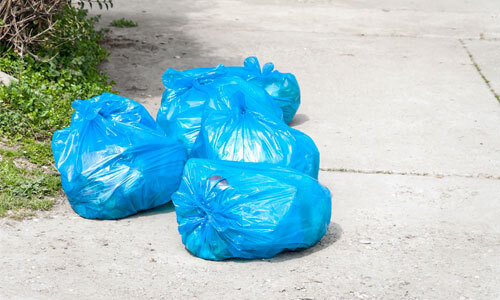 Our kerbside collection bags are perfect for waste management and collection companies. Working alongside local authorities, waste contractors and health care professionals it's important to provide waste sacks and bags that are up to the job.
Different coloured kerbside collection bags are often used for different types of waste, they can even be printed so that teams out collecting rubbish can easily identify what they need to pick up.
Being able to offer a bespoke service enables our clients to order what they need, ensuring the sacks meet their specific requirements. We can provide various sizes, colours and thicknesses and as mentioned can print company names, logo's, contact details etc. on the bag as required.
Specific Kerbside Collection Bags
Blue – used mainly for the disposal of food they are very popular with the catering industry, restaurants, bars, cafes and food manufacturers.
Green – for green waste as it's called, this comprises of garden waste, tree cuttings, grass, plants and other organic materials.
Black Rubble – building waste bags usually used for small amounts of rubble.
Trade Waste Black – Trade waste bags for anything unable to be recycled goes in these bags, we always encourage as much recycling as possible.
Recycling – these can differ in colour depending on the area and whether Government led or by private company. For specific recyclable materials, it may be a kerbside collection bag is used only for paper waste as an example.
Other Colours and types not used for kerbside collection
Yellow – infectious material or contaminated materials, it could be chemicals, human/animal waste such as plasters, bandages, aprons etc. this is a highly regulated are and bags need to be specifically designed to comply with current legislation.
Tiger Stripe – disposal of medical items that do not contain a risk of infection from human/animal healthcare settings. Again, these are specific bags that are manufactured for this purpose.
Red – for Asbestos and they will usually be labelled as such. Known as Asbestos warning sacks.
Confidential waste – used for customer or confidential data that needs to be destroyed. This need to be well managed and any waste disposal needs to abide by current data protection legislation.
Why Chose Abbey for your Kerbside Collection Bags?
Here at Abbey Polythene we put your needs first, offering advice to ensure you get the right product. We aren't in the business of trying to sell you something you don't need. Our customers interests are our focus and so you can be assured that this matched with our experience and expertise will help you to source the right kerbside collection bags for the best value for money on the market.
We offer fast turnaround and quick delivery across the UK, we have a friendly and personable team who are always trying to go the extra mile for our very loyal customer base. Our product range is extensive and high quality, fit for the job and you get exactly what you order.
So if you are looking for kerbside collection bags then get in touch today!