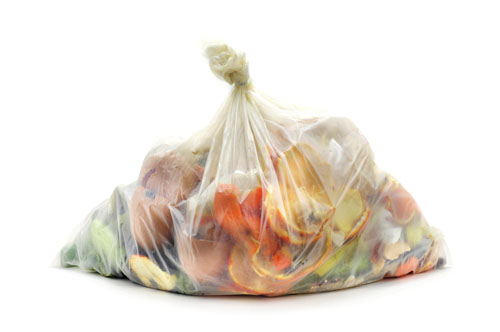 Food waste is a major issue in modern society. In fact, 15 million tonnes of food are wasted every year in the UK while 4.2m tonnes are wasted by consumers alone. While finding ways to buy food in a more conservative fashion is crucial for your bank balance, it's the disposal of surplus food that will make the biggest impact on the environment.
Efficient food waste disposal requires several steps but finding the right bags to help transport your food is undoubtedly one of the most important factors of all. Abbey Polythene's polythene food waste bags are the perfect solution.
Polythene Waste Bags for Residential & Commercial Usage
Whether disposing of food waste at home or in business, finding a practical solution is one of the most important factors of all. Abbey Polythene takes great pride in offering food waste sacks of varying sizes to ensure that your needs are met. Whether it's a small weekly council collection of your family's food waste bin and cubby or handling the vast sums of food that may be wasted by a restaurant or commercial setting, we'll have an ideal option.
The fully compostable polythene material is perfect for the safe transportation of all food waste while the bags carry both the Kompostierbar and OK Compost logos, thus confirming compliance with the EN13432 standard and EU packaging directive 94/62/EEC regulations. Aside from being practical, then, the bags are clearly labelled for your family, employees, and collection teams.
Our polythene food waste bags are also very robust, ensuring that food waste stays inside the bag rather than being spilled all over the pavement or garden due to splits. Whether you handle small or large quantities of food waste, our polythene sacks are designed to cater to your specific requirements in style.
Ongoing Food Waste Disposal Made Easy
From council disposals to commercial recycling disposals, it's not simply a case of choosing the right solution for today. It's equally crucial to find a suitable disposal method that can be repeated on an ongoing basis to ensure that your food waste is kept to a minimum. Our polythene bags can be ordered in large quantities while we can also arrange for repeat deliveries so that you are always well-stocked without any additional effort on your behalf.
When food is disposed of in the right manner, it is taken to a composting facility and will eventually be used to create soil conditioners and aid the process of growing new foods. The whole process can be completed in a matter of weeks. Once you have started, every piece of food that ends up with the composting experts will reduce your waste and support society in its bid to beat the epidemic.
Getting started is one of the hardest challenges but knowing that you have the right facilities for your home or business will put you on the right track. Abbey Polythene's polythene food waste bags provide the perfect first step and will continue to support you on the path to success for many years to come.