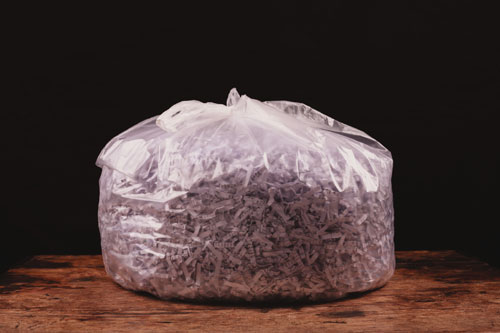 The safe disposal of confidential company files and information is an obligation that all UK businesses are bound by. Whether it's client data, employee data, or details of suppliers doesn't matter. You must not dispose of the content in an incorrect fashion, or else a £500,000 fine and prison sentence could find its way to your door. Confidential waste bags are, therefore, a crucial investment.
Using confidential waste bags will go a long way to protecting your business. Here's all you need to know about using them.
Step 1: Find The Right Bag Material For Confidential Waste Disposal
Your confidential waste needs to be removed in the most appropriate fashion, and you cannot simply dispose of waste in black sacks or other standard bags. Polythene waste bags are the best solution by far due to their robustness and strength.
In addition to the material, you will probably want to use large bags too. After all, your confidential waste can include a range of paperwork including;
Invoices and quotes,
Application forms,
Payslips and bank details,
Emails, letters, and other correspondence,
Medical or background data.
These items soon add up, which is why you need enough space to handle a lot of paper. Large polythene waste bags are, therefore, the best solution by far.
Step 2: Organise Your Confidential Waste
Disposing of confidential waste isn't the type of job you want to take on every day. In fact, most companies find that they do it either quarterly or annually depending on their size. As such, there may be a long time where you accumulate waste. Ensuring that it doesn't become mixed up with other waste is key.
The best way to do this is to choose polythene waste bags that boast a clear distinction from any other materials in the company. Our blue polythene waste bags are clearly labelled 'confidential waste', ensuring that all staff members know which bags to use.
This prevents the issue of putting unnecessary items in the confidential waste bags. More importantly, it ensures all confidential materials are ready for disposal.
Step 3: Safely Dispose Of Your Confidential Waste
While you may wish to shred the paper yourself, it isn't necessary. In truth, doing this would be a waste of time and energy, especially when better solutions are available. Hiring a professional confidential waste disposal service is your best answer by far.
This type of service will:
Collect the bags,
Destroy all materials via industry-standard shredders,
Provide you with a certificate that confirms the safe disposal.
For the sake of your time, finances, and sanity, this is the best option by far. In some cases, the services can even return your bags so that they can be used again and again for even greater efficiency. Perfect.
Buy Your Confidential Waste Bags Today
Given the importance of safe confidential waste disposal, choosing the right waste bags for the task is essential. With no minimum orders and a range of polythene waste bags available, Abbey Polythene has your situation under control. To learn more, click here to see the full range.