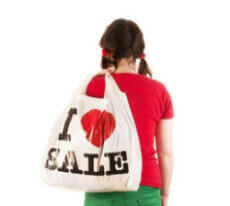 Every business knows that they have to market their brand effectively in order to bring people into the store. When you are looking for an effective way to promote your business without paying for media advertising, then having your company logo printed onto the polythene plastic bags that you supply to customers can benefit you.
You should also be able to find a range of important and relevant phrases or sayings which you can add under the logo in order to catch people's attention.
What type of logo should I use?
The type of logo that you choose will depend upon the brand that you already have in place in your business. Ideally, the logo should match the different types of image that you have in your brand, so that customers will automatically associate the logo on the polythene plastic bags with your company brand. This means either taking the logo from your existing brand website, or designing a logo specifically for the bags which incorporates some or part of the images in your brand. So for example a company which uses a brand image of a knight and castle might focus in upon one element of that image, such as a castle turret, or the helmet of the knight.
How do I make sure my logo is right?
The key factor to choosing a company logo for your polythene plastic bags is to ensure that you have an image which is both simple and eye-catching. If you make your image too complicated, then viewers won't be able to tell what is on the logo, while if you make it too obscure, your viewers might not connect the image to your company. Above all, you should use the image in conjunction with your company name in clear, print-style letters.