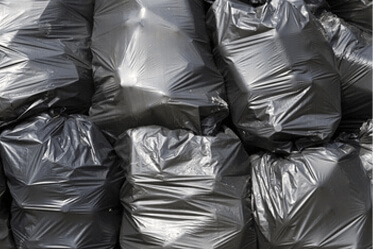 Commercial and business owners need to dispose of their waste according to strict regulations, and they have a responsibility to help their local council dispose of this waste safely.

The majority of trade waste cannot be disposed of in domestic rubbish bins, and many retailers and businesses choose to buy trade waste sacks which can be used to store their waste until it can be collected by a waste disposal teams.
Why use a trade waste sack?
There are several reasons why companies may choose to invest in pre-paid trade waste sacks rather than have their commercial waste taken away on a weekly basis. Firstly, the cost of weekly removals is high and many companies do not generate enough waste to be able to justify paying the council to clear it away each week. Secondly, these sacks can be taken away on a daily basis, so the business only has to fill up the sack, and then place it in the collection point. This means that they can use one sack a week, or once a month, according to their own needs. This saves money and allows the business to comply with council law.
Where can I get trade waste sacks?
You can buy your trade waste sacks through specialised companies like Abbey Polythene. A company who specialises in all types of bags and sacks can advise you on any questions you may have regarding quantity and what can be included in the waste.
They will deliver the items quickly saving you the trouble of picking them up yourself.