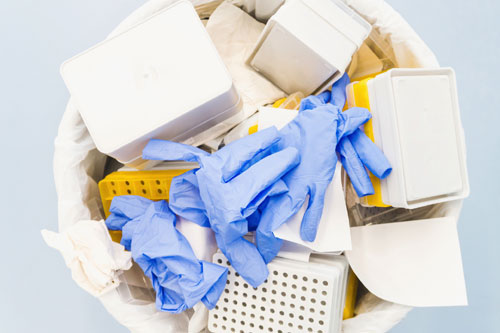 Clinical waste bags are required by several types of businesses and organisations. If you run a medical business, you own a veterinary practice, or you deal with clinical waste, it's crucial to ensure you have the right bags for the job. To ensure safe disposal and make sure you comply with the UN3291 regulation, you can rely on high-quality waste bags from Abbey Polythene.
What are clinical waste bags and do you need them?
Clinical waste bags are a specialist form of waste sack that is used to store clinical waste produced by humans or animals. Clinical waste can expose people to risks, and as such, it is collected and disposed of in a different way to household rubbish. If you work in a healthcare setting, you work with animals, or you're involved in the collection or disposal of clinical waste, you'll need to invest in clinical waste bags.
The importance of buying the right clinical waste bags
Clinical waste is not your average household rubbish. When you're exposed to clinical waste, and you have a responsibility to dispose of it safely and securely, it's essential to ensure you have all the equipment you need. Abbey Polythene clinical waste bags are robust, strong, and most importantly, compliant with the latest health and safety regulations stipulated by European legislation outlined in UN3291. This regulation relates to the handling, collection, transportation, and disposal of clinical waste products. These bags protect those who are using them from the contents within and also simplify the process of separating clinical waste from other types of waste within a healthcare setting.
Dealing with clinical waste carries risks if waste materials and products are not contained properly. Strong, sturdy clinical waste bags minimise the risk of contact with waste products throughout the collection and disposal process. The labels are also essential for identifying the type of waste and ensuring that it is disposed of in the appropriate manner.
What's so special about Abbey Polythene clinical waste bags?
Clinical waste bags play a vital role in the safe disposal of waste collected and deposited by healthcare organisations and businesses, veterinary practices, research institutes, and waste collection companies. When choosing which bags to buy, there are several factors to consider, most notably, compliance. Clinical waste bags from Abbey Polythene are fully compliant with the latest regulations, and they are UN3291 certified. Each bright yellow bag is clearly labelled to make the bags stand out from standard rubbish containers, and there is an 'incineration only' warning clearly visible on the front of the bag. Bags are provided in boxes of 200, with savings available for bulk orders.
Abbey Polythene clinical waste bags are made in the UK using the highest-quality materials, and there is a continual supply available for rapid dispatch. Abbey Polythene provides bulk orders, and all deliveries are traceable.
When you buy clinical waste bags for your business or organisation, you want to enjoy peace of mind that you're operating according to guidelines and regulations, but you also want to ensure that you're getting the best quality product for your money. Abbey Polythene is a reputable supplier of high-quality clinical waste bags that are compliant and durable.
If you're looking for clinical waste bags for your business, why not get in touch and find out more?