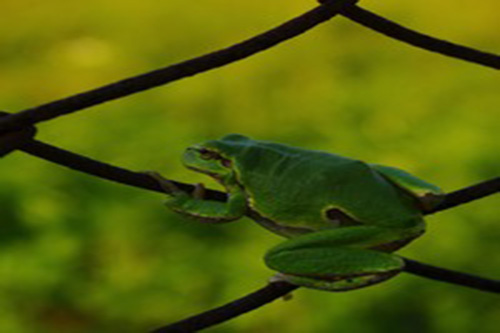 It's not every day that you might need to fence in some amphibians, be they frogs, toads or newts. However, there are several reasons you might need fencing that prevents amphibians from leaving a habitat or perhaps stops predators and other threats from getting in. Perhaps you are carrying out a study that requires close monitoring of amphibians and their habitat, or you might need to protect an environment for conservation reasons. When you're looking for the right solution, amphibian fencing can give you the answer. Our amphibian fencing products are designed to help you protect various habitats and the creatures that live within them.
What is amphibian fencing?
Amphibian fencing is designed to fence areas where amphibious creatures and plants might need to be contained or protected. It creates a barrier to control the movement of newts or other amphibians and reptiles. Sometimes called newt fencing, it can be installed with minimal disturbance to the animals that live within the habitat and the habitat itself. Amphibian fencing uses lightweight posts and plastic sheeting and is buried a little way under the ground to hold it stable. Polythene sheeting with wooden stake support is considered to be the best option for amphibian fencing.
Who might need amphibian fencing?
Amphibian fencing might be used for a few different reasons. Amphibian fencing can be used by conservationists and scientists who need to protect certain habitats and environments, as well as contain amphibians, reptiles and other wildlife within a certain area. You might find that you require amphibian fencing to carry out a study or experiment, to preserve natural defences and to protect newts and other amphibians, as well as reptiles and lizards. When protecting certain habitats, you will also need a DEFRA licence, and this will require the use of suitable fencing.
About polythene sheeting amphibian fencing
Polythene sheeting is now the preferred material to use for amphibian fencing, along with lightweight posts made of either wood or plastic. It's the best option of low disturbance fencing and helps to ensure that amphibians and other animals are not harmed. Our polythene sheeting is designed to be used as amphibian fencing and has an ultra-violet inhibitor additive to prevent it from deteriorating or rotting when used outside or when exposed to sunlight. It can last for as long as five years outdoors and can be made in a colour or tint that naturally blends into the environment.
Finding the right solution
When you are looking for amphibian fencing, we can help you here at Abbey Polythene. Our polythene amphibian fencing solution is ideal for a range of needs. We can discuss our products with you and help you to find the best solution for your requirements. Our amphibian fencing does the job while minimising any damage to the surrounding environment so that you can confidently use it for conservation. It's cost-effective and lasts a long time, making it a smart choice.
Get in touch if you want to find out more about our amphibian fencing and how we can help you.