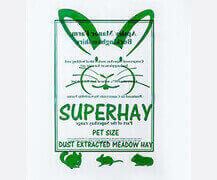 If you are looking for a unique way to showcase your products, then printing your logo or other messaging on clear poly bags may be the perfect solution for you. Clear polythene bags are both eye-catching and functional, making them a great option for a variety of businesses.
Clear bags are an extremely versatile promotional tool that can be used in a variety of settings. Here are 5 reasons why you should consider printing your logo or message on clear plastic bags:
Branded bags showcase your business
Clear bags showcase your products
Branded polythene bags are durable and last a long time
Plastic bags with your branding on are very versatile
Branded clear bags are very affordable
1. Branded Bags Showcase Your Business
Clear polythene bags with your logo or message printed onto them are a great way to showcase your brand while protecting the contents.
Each time the customer reuses that bag they'll be reminded of your business so you stay at the front of their minds. The next time they need your products or services there's a good chance your business will be their first consideration.
2. Clear Polythene Bags Showcase Your Products
Clear polythene bags also have the advantage of being transparent, so other potential customers can easily see what's inside.
When using your bespoke polythene bags your customers will be walking advertisements for your products. If other people like what they see, they'll know where the products came from, as your branding will let them know loud and clear.
So overall, clear bags are an excellent way to promote your brand and increase visibility to both current and potential customers.
3. Branded Polythene Bags are Durable and Last a Long Time
Branded clear polythene bags are very durable and can be reused over and over. This has two advantages:
This makes them a more sustainable option than paper or disposable plastic bags, and helps to reduce your environmental impact.
Your customer will be reminded of your business for a long time after they've bought your products or services.
4. Polythene Bags With Your Branding on are Very Versatile
Clear bags with your logo or message on are one of the most versatile marketing tools available. Whatever you use them for they are an excellent way to showcase your brand. Here are some suggestions for ways to use them:
To package merchandise for your customers
Clear branded bags are a versatile and affordable marketing tool that can be used in a variety of settings. Whether you're handing out promotional materials at a trade show or selling products at a retail store, clear plastic bags with your logo or message printed onto them are a great way to showcase your brand to both customers and the people they come into contact with.
For storage and transportation purposes
Clear plastic bags are waterproof and help to keep your merchandise clean and dry. This is especially important for food items or other sensitive merchandise that could be damaged by moisture. As a result, clear polythene bags can be used for both storage and transportation and so are a practical choice for businesses that need to package products for these purposes.
To separate different types of products or waste
Printed clear bags are also very useful for segregating different items. This is especially helpful for waste management companies.
Any business that deals with waste management will know how important it is to have an easily identifiable logo. This is not only for branding purposes but also for practical reasons. If rubbish is left kerb-side and bagged in appropriate sacks, it is easy to identify which rubbish is to be collected by that company.
This is especially important for businesses who deal with segregated waste. By providing customers with bags that are printed on, they can segregate the waste at source which makes it much easier and more cost effective to dispose of or send to be recycled.
Using clear bags also makes it easier to identify which type of waste is in each bag.
To clearly identify hazardous waste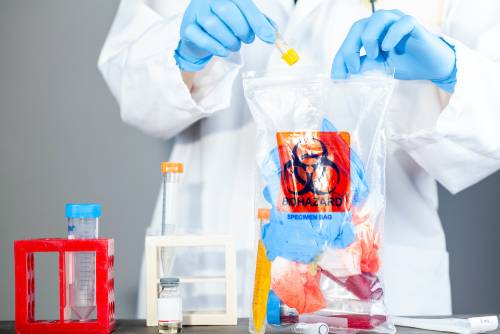 Printed polythene bags are also very useful for identifying hazardous items or waste. Having the contents clearly labelled as hazardous, as well as being able to see the contents without opening the bag, will provide hygienic protection and make it much safer for those dealing with such items.
5. Branded Clear Bags are Very Affordable
Printing your logo or message on clear bags is an exceptionally affordable way to promote your brand. Clear polythene bags are a cost-effective way to reach new customers and grow your business by spreading the word and keeping your business at the forefront of both current and potential customers. This means you could be the first business they think of when they need your product or services.
There is clear evidence that print promotions using clear polythene bags are highly effective marketing tools that offer a tremendous return on investment.
Get Your Logo or Message Printed on Clear Poly Bags
If you are looking for a way to increase brand awareness and reach new customers, branded clear polythene bags should definitely be part of your marketing mix.
At Abbey Polythene we are not only experienced with printing and manufacturing printed polythene bags, we also aim to provide the best customer service. We are always friendly and helpful as well as professional, and are happy to advise you regarding the type, size and colours that will be best for your business needs. As a result we have hundreds of satisfied customers who return to us again and again.
We understand that when it comes to polythene bags, quality is paramount. You need to be able to rely on your bags to protect your products and keep them safe from damage. That's why we only ever use the highest quality materials and manufacturing methods. We also offer competitive pricing so that you can be sure you're getting the best value for money.
And if you need a customised solution, we can help with that too. Whether you want to add your logo, marketing messages, product instructions, or bar-code, we can create a solution that meets your needs.
At Abbey Polythene, we pride ourselves on being able to provide our customers with the perfect packaging solution for their business's requirements. We offer a range of colours and bag sizes and can deliver in a range of quantities to suit.
Simply provide us with the artwork for your bespoke polythene bags, or if you aren't sure how to get started then we can help with that too!
So whether you want clear polythene bags, heavy duty polythene bags, food grade, clinical or waste segregation bags, we have exactly what you need.
And because we understand that time is often of the essence, we offer a quick turnaround time on all orders. Why not contact us today and see how we can help you with your bespoke plastic bag requirements?