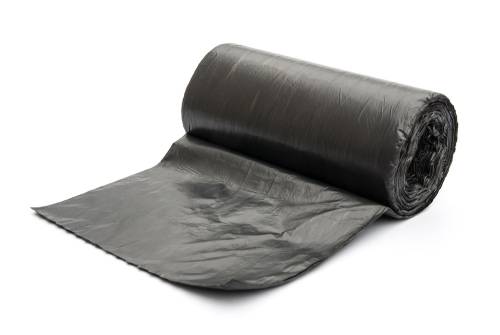 If you're looking for a reliable and cost-effective supplier of wheelie bin liners, look no further than Abbey Polythene. We are now stocking these products in our UK based warehouse, meaning that all business customers can benefit from our competitive prices and excellent customer service. Place your order today to take advantage of our fast delivery times!
Why Choose Us for Wheelie Bin Liners?
There are many reasons to choose Abbey Polythene as your supplier of choice for wheelie bin liners. Here are just a few:
Firstly, our prices are highly competitive, meaning that you can save money on your purchase without compromising on quality.
Secondly, we pride ourselves on providing an excellent level of customer service, so you can be confident that you will receive the support you need from our team.
Thirdly, we only offer high quality products meaning our bags are less likely to split.
Finally, we offer fast delivery times on all orders, so you can get your products as quickly as possible.
Our stock comprises of 240l black wheelie bin liners. Our strong, high quality bags are perfect for a variety of waste, and are ideal for waste clearance companies and businesses alike. Buy in boxes of 100 at competitive prices today. To place an order or to find out more about our range of wheelie bin liners, simply get in touch with our team today. We look forward to hearing from you soon.
Why are Black Wheelie Bin Bags Still Used Today?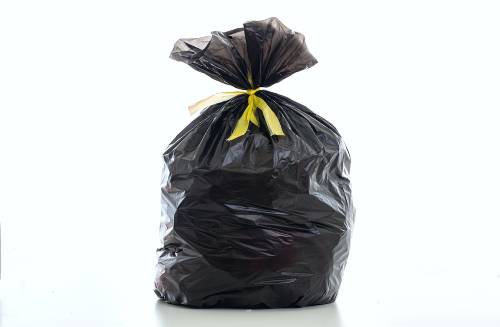 The black wheelie bin bag is a ubiquitous sight in Britain today. They are used by councils, waste clearance companies and businesses up and down the country to collect household waste, and they are also widely available for homeowners to buy in shops. But why are they still so popular?
There are a few reasons for this. Firstly, black bags are very good at concealing waste. This is important both for aesthetic reasons and for hygiene reasons. Nobody wants to see their rubbish, and black wheelie bin liners make it much less likely that waste will spill out onto the street.
Secondly, black bags are very tough. They can withstand being dragged along the ground and being thrown into a bin, which is important when they are being used to collect heavy or sharp items.
Finally, black wheelie bin liners are affordable. They are made from a material that is very easy to mass-produce, which means that they can be sold at a good price. This makes them an attractive option for councils and businesses who need to buy large quantities of bags.
So there you have it: the black wheelie bin bag is popular because it is good value, tough and good at hiding waste. It is a simple solution to a complex problem, and it is likely to remain the preferred choice for many years to come.
How Do Wheelie Bin Sacks Differ From Other Polythene Bags?
Wheelie bin sacks are made from a much thicker gauge of polythene than regular polythene bags. This is because they need to be strong enough to withstand being dragged along the ground and lifted into wheelie bins. They also usually have a capacity of around 50 litres, which is much larger than most other types of polythene bags.
One of the main ways that wheelie bin liners differ from other polythene bags is in their shape. Wheelie bin sacks are designed to fit a wheelie bin perfectly, with a variety of different sizes available to fit most bins. This means that they don't need to have any handles or straps, as they don't need to be carried, although many do still come with these to make handling a little easier.
Another difference is that wheelie bin sacks are usually opaque, while other polythene bags are often clear. This is because it's important that rubbish is not visible inside the sack, as this can attract vermin. It also means that the bags can be used multiple times, as you can't see when they start to get full.
Why are Different Types of Waste Put into Different Coloured Bin Liners?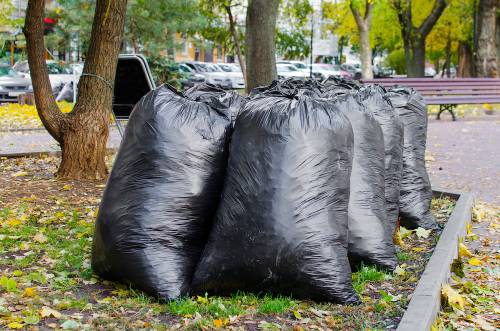 Household Waste
There are four main types of waste: general waste, recyclable waste, hazardous waste, and food waste. Each type of waste has different properties that make it more or less suitable for disposal in a particular way. Not all types are able to be put into wheelie bins. In fact, some local authorities have smallers crates etc. for disposing of glass bottles for example.
General waste:
Any type of waste that cannot be recycled or reused. It includes things like packaging, food scraps, and paper towels. This type of waste is usually put into rubbish bags.
Recyclable waste:
Waste that can be recycled. This includes things like glass, metal, and plastic. Recyclable waste is usually put into blue bin bags. Household recyclable waste tends to go straight into the appropriate bin, cutting down on the need for bags completely. But business recyclable waste is often put into a wheelie bin liner.
Hazardous waste:
A type of waste that is harmful to the environment or human health. This includes things like chemicals, oil, and batteries. Hazardous waste is usually put into yellow bin liners.
Food waste:
Food that has gone bad or that people do not want to eat. This includes things like fruits and vegetables, meat, and dairy products. Food waste is usually put into green bin liners. Cutting down on this type of waste with rely solely on people only choosing or cooking food that they know they will eat.
Different types of waste are put into different coloured bin liners because they need to be disposed of in different ways. General waste goes to landfill, recyclable waste is recycled, hazardous waste is incinerated, and food waste is composted. By putting different types of waste into different coloured bin liners, we can make sure that it gets disposed of in the most appropriate way.
Business Waste
There are different types of waste that businesses produce, and each type needs to be handled in a specific way.
Red bags:
For general waste from offices and hospitality, with heavy duty versions used for heavier general waste often from the hospitality industry.
Blue bags:
For recycling, so things like plastics, paper and cardboard.
Yellow cardboard stickers;
For flat-packed cardboard boxes
Large grey bags:
Used for waste compactors.
Black wheelie bin liners:
Are used for general waste too.
By understanding the different types of waste and how to properly dispose of them, businesses can save money on waste disposal fees and help to protect the environment.
Businesses need to be aware of the different types of waste they produce and how to properly dispose of it. Different types of waste require different methods of disposal, and disposing of waste correctly can save businesses money on waste disposal fees. It is also important for businesses to protect the environment by disposing of waste in a way that will not harm the environment.
If you are looking to purchase wheelie bin liners for your business, Abbey Polythene are a UK leading supplier of all kinds of polythene products. They offer fast delivery across the UK and have a wealth of experience in the industry. Take a look here for more information.