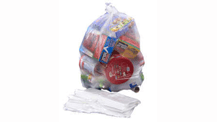 One of the most popular types of polythene bags, the clear versions are cost effective and can be used for so many different applications.
They provide protection against the outside elements, such as dust and moisture while allowing you to see what's inside of them.
This makes them perfect for holding stock or multiple items that you need to be able to see or for customers to view what they are purchasing in advance of handing over their hard earned cash.
We offer a wide range of sizes, from small bags to large sacks we can provide whichever clear polythene bags you require. We are well known within the industry and sell millions of polythene bags each year across the UK.
Whilst we can offer competitive pricing, we don't skimp on quality and that's important, there's nothing worse than having bags that split or quickly erode because they have been manufactured using sub standard polythene.
We are able to supply on an ad-hoc basis or set up regular orders for you which is perfect if you don't want to purchase a large order up-front. We can also offer bespoke printing if you wish your bags to have your logo and company information or text about the contents within the bags.
Clear polythene bags are also great for waste bags as it's easy to see what the contents are and also for storage purposes. There really are versatile!
We can also be incredibly flexible and are able to offer a quick turnaround on all of our clear polythene bags. Simply give us a call today on 01489 790666 to place your order or speak to the team.
If you aren't sure exactly what it is that you need, you can speak to one of our knowledgeable team who will be able to discuss your requirements and advise you on the best solution for you.
We are not only knowledgeable about the polythene products that we sell, but we also pride ourselves on offering a high level of customer service, quick turnaround, on time delivery and a friendly team on the end of the pho