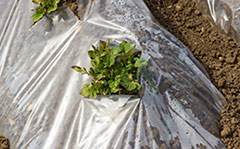 With so many technological advances developed in the last few years, it's no wonder that every job can be done easily and more efficiently. Polythene sheeting is one of these wonders which really make every job easier even for amateurs. Because it has so many uses, this incredibly versatile material will allow you to solve any problem faster, in clever ways.
What Is Polythene Sheeting?
Polythene sheeting is nothing other than a plastic film made from petroleum, the composition of which makes it incredibly versatile and almost completely waterproof. Sold in rolls, this useful tool can be transparent or opaque and can help you complete a large range of tasks without much effort.
Not only will you be able to cover surfaces in order to protect them, but depending on the additives it might contain, its functionality can vary – from being fire retardant to UV inhibiting or anti-static. Therefore, you can use it outdoors or indoors for a large number of applications.
What Is Polythene Sheeting Used For?
Depending on its size, thickness and grade, polythene sheeting can help you complete a large number of tasks – if you get creative and think efficiently.
1. For shelters or protection
In cases in which you desire to build an outdoor shelter or protect some of your goods lying outside in harsh weather conditions, polythene sheeting will come in handy. It is strong and will surely hold up the wind, so it is a very reliable tool.
2. For closing off rooms while redecorating
Closing a room where work is in progress will prove to be a great decision. Not only will it keep children away and not allow any visitors to witness the disaster happening out there, but it will also keep dust away.
3. For recreational purposes
Not only is this material handy, but it also allows all your family to have fun in your own garden. You can use long rolls of polythene sheets to create an ice rink or a slide that everybody will enjoy.
4. For greenhouse roofing
One of the best-known uses of polythene sheeting is for sure related to greenhouses. This tool can have the power to insulate the house from heat and cold while adding strength. It is probably one of the best ways to make sure your greenhouse is productive and protected.
5. For aquaponics
Adjacent to greenhouses, these systems that refer to cultivating plants in water can be easily made with the help of polythene sheeting. When used wisely, it can be incredibly efficient. Not only will it help your plants grow, but it's also a great choice if you want to protect the environment.