Printed polythene bags are perfect for many different situations, uses and locations and we have the perfect solution whatever your individual company needs.
We can supply a comprehensive range of polythene bags in a wide variety of different colours with a choice of plain or printed options.
Designs of up to three colours can be printed onto the bags on one side only, both sides or in a fixed or random repeating pattern depending upon the specific needs and design of your company logo or message you need to convey.
Our professional design team will be happy to help with the development of your individual composition or we can work using your own artwork and logo – subject to compatibility. Incorporate as much or as little information as you need – we're happy to advise you on how to make the most of printed polythene bags to get your company name or message out there.
Our printed bags are available in a wide variety of sizes making them the perfect solution for:
Waste disposal
Waste segregation and recycling purposes
Charity collection purposes
Packaging for shipping
Special products and / or events
Printed order jobs are subject to minimum order numbers.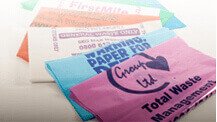 All of our products are manufactured using top quality UK sourced polythene to ensure the maximum strength, quality and durability.
We strive to provide a service and product which is as environmentally friendly as possible – all of our products can be recycled or are manufactured producing the minimum amount of waste materials. All waste is used to create polythene granules and re-used in the production of fresh film.
We have a fully traceable dispatch and delivery service to ensure that your orders arrive on time and in perfect condition. We use a professional pallet UK delivery service with a 2 / 3 day standard delivery although next day and Saturday morning deliveries can be arranged if required.
Contact us with your needs and we'll advise you on the best methods of using printed polythene bags to help promote your product or service or provide an easily identifiable system of waste disposal, recycling or segregation as well as the many other ways in which our custom printed polythene bags can help your company to run smoothly and effectively.
The printed polythene bags are available in bespoke sizes although minimum order numbers are required in order for us to maintain unbeatable prices for the best products around.
Give us a call and tell us what you need and we'll come up with the perfect solution for your company and provide pre-production samples to make sure that everything is just right. Many orders are available for shipment within 10 – 14 working days of receipt of the order.